All species records on the NBN Atlas have specific licences attributed to them which specify how the data
may or may not be used.  The types of licence found on the NBN Atlas are:
Open Government Licence – OGL
Creative Commons No Rights Reserved Licence – CC0
Creative Commons With Attribution Licence – CC-BY
Creative Commons With Attribution – Non-Commercial – CC-BY-NC
You can find out what each licence-type means, here.
One way to check what the licence of a record is by navigating to it from the NBN Atlas homepage,
by clicking the Data and Partners tab and then selecting Search NBN Atlas Datasets (1).

Species lists do not have associated licences and the licence will be listed as 'other' (2).
You can select the 'Records' filter on the left to display only species record datasets (3).
Here, you can also filter by licence-type.  The licence-type of each dataset is specified underneath it (4).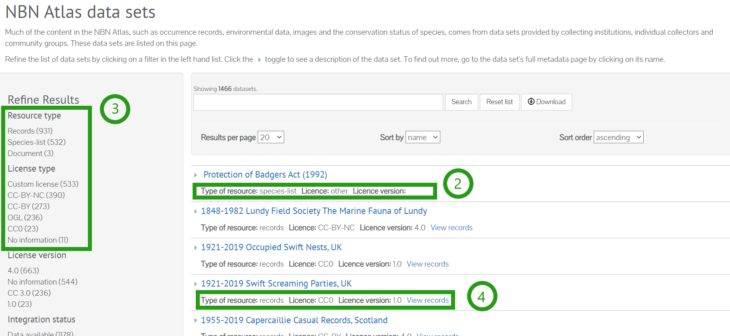 Clicking on the name of a dataset will take you to its own page, where the licence is stated underneath
the dataset logo on the right (5).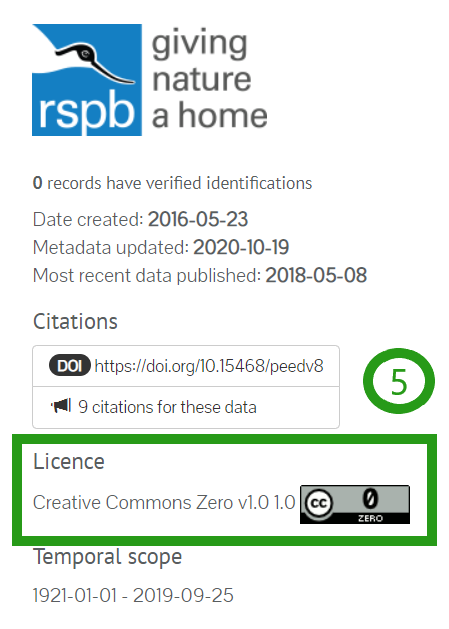 Licence information can also be displayed when viewing records on the interactive map.
Navigate to the interactive occurrence record map (see Viewing species records on a map).  Here you
can select to view the records as points.  Choose Licence from the dropdown box and the colour of the
points will correspond to the licence-type in the legend (6).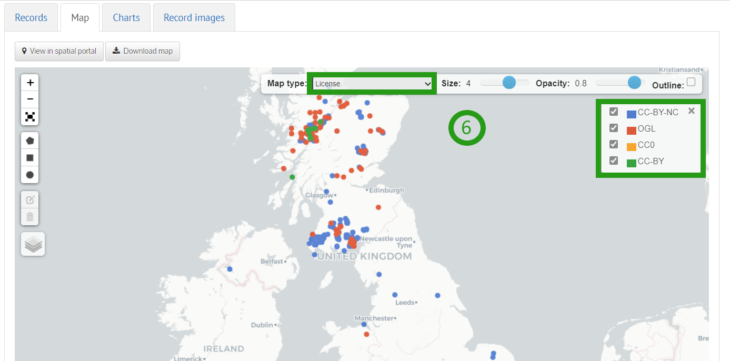 Data on the map can also be filtered by licence using the filters on the left (7).  If you select a licence-type
from here, the map will revert back to displaying records as the default variable grids.

Clicking an individual record from the map will also allow you to view the licence it has attributed to it.  After
clicking on a record, click View record.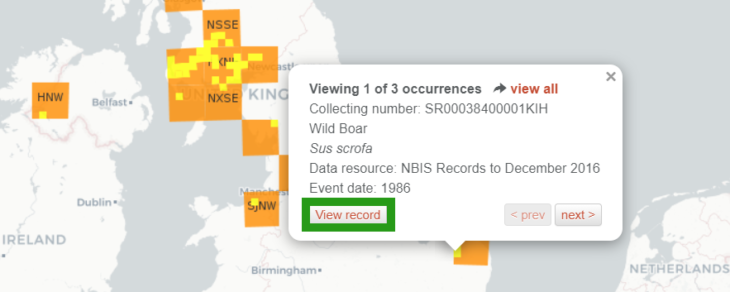 This will take you to the record overview page, which lists the licence-type amongst other information about the record.